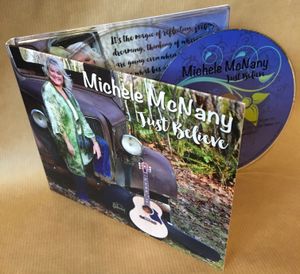 Alternative Folk/Country Singer-Songwriter Michele McNany's rich and sultry contralto shines in "Just Believe" creating a warm acoustic surround sound recording, moving from heart inspired ballads garnished with thoughtful lyrics to upbeat rhythms, blending orchestrations and as an album an optimistic oversight.
0:00/4:52

0:00/3:23

0:00/3:50

0:00/4:29

0:00/4:20

0:00/3:00

0:00/3:52
With You Now is my first EP and is an inviting folk album offering songs from early works to more current.  Warm vocals, heartfelt lyrics and melodies draw you in and bring back memories of home, family and friends.  
0:00/3:47

0:00/3:48

0:00/4:26

0:00/3:46

0:00/3:44
Your support of my album is so appreciated as I continue working on upcoming albums. All proceeds support my new projects. I hope you enjoy and THANKS for listening!!